Wrinkle Treatment
Ageing is a natural process, but wrinkles are not. Most of the time, people tell your age by your wrinkles. How do we get wrinkles? And is wrinkle treatment possible? These are questions which men and women alike seek answers for a very long time. It is only in recent years that medical science has found a solution for wrinkle treatment. Botulinium toxin, or commonly known as botox, is used to treat expression lines. And dermal fillers (most commonly hyaluronic acid) are used to treat resting lines. Used appropriately, they produce fast and effective results.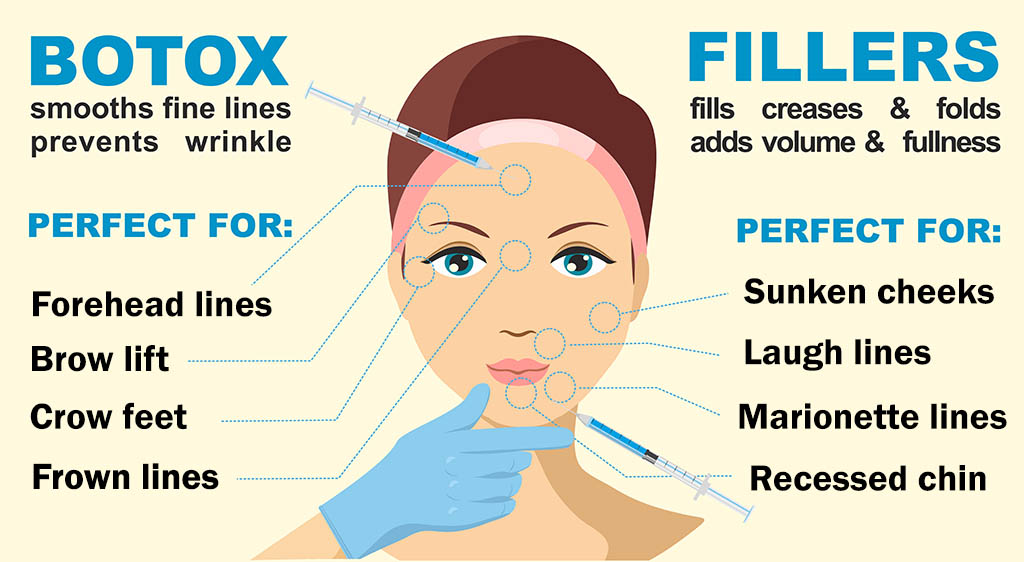 When to use botox for wrinkle treatment?
To understand the answer to this question, we need to know how botox works. Botox works by relaxing the muscles that causes our expression lines. Expression lines appear when we raise our forehead, frown or smile. Botox treats these areas by telling the muscles not to work so hard. It does not give you a frozen look because muscles are still working, but not as hard. As everyone has different expression lines, a good doctor should assess the area to be treated and give the right dosage for wrinkle treatment.
When to use dermal fillers for wrinkle treatment?
Hyaluronic acid is a natural occurring substance under our skin. It has a natural property of retaining moisture and make our skin appear smooth and dewy. When injected under the skin, it gives volume and raise the depressed lines on our faces. As we grow older, our bones resorb (becomes lesser) and facial muscle and fat gets reduced. It results in a tired and hollow appearance. That is why fillers are used to treat sunken cheeks, laugh lines, marionette lines and recessed chin. It worked beautifully to restore volume and is an effective wrinkle treatment.
To find out if you are a suitable for treatment with botox and filler, make an appointment with our doctor. She will assess your condition and suggest a customised solution for wrinkles.
Call us now for more information on wrinkle treatment.
Watch our video on Botulinium injection
Dr Donna will share information on botulinium treatment for the upper face and demonstrate the injection in this video.
TREAT WRINKLES AT $138 NETT* 
Look younger with Botulinium Injection:
✔ Price is for first area (either forehead, frown lines or both eyes crow's feet)
✔ Performed by experienced doctor
Price is inclusive of doctor's consult and discussion of treatment plan.
Other T&Cs apply.
OUR DOCTOR
Dr Donna Chow, Medical Director, Arium Clinic
Dr Donna has more than 10 years of experience in the field of Aesthetics Medicine. She graduates with a medical degree from National University of Singapore and holds two post graduate diplomas in Family Medicine and Dermatology (Distinction).
She is certified by the Singapore Medical Council Aesthetic Procedures Oversight Committee in the administering botox and dermal fillers, chemical peels, lasers for pigmentation, skin resurfacing and hair removal, non surgical skin tightening treatments and non invasive body contouring treatment. Click here to read more about her.
FILL UP THE ENQUIRY FORM BELOW AND WE WILL GET BACK TO YOU WITHIN 24 HOURS.
Frequently Asked Questions
How do I prepare myself for wrinkle treatment?
You do not need to have any special preparation for wrinkle treatment. We usually inform our patients to come for treatment at least one week before an event. This is to allow time for botox to show its effect and time for your injection marks to heal.
Is botox or filler injection painful?
No, it is not. Most patients describe as a slight prick of a needle. Some may not even feel any pain because of the numbing cream effect on the skin. Lidocaine (local anaesthesia) is premixed with most hyaluronic acid fillers. You may continue to feel the numbing effect for up to 2 hours after the injection.
When do I see results?
You will start to see the effect of the botox in about 3 days to a week. For dermal fillers, you start to see the effect immediately after the injection. But it takes about 3 to 5 days for the skin swelling to subside and you will look most natural in about a weeks' time.
How long does it last?
For most patients, the effect of botox lasts between 3 to 6 months. It varies between individual and is dependent on genetics and lifestyle. The longevity of the filler depends on the type used and the area it is used to treat. Higher facial movement areas (such as laugh lines and lips) tend to have the shorter effect (6 months to a year). Likewise, lower facial movement areas such as temples and cheeks tend to last longer (up to 2 years).
What should I look out after the procedure?
You should not exercise or drink alcohol for at least one day after injection. Such activities may cause the blood vessels to dilate and result in bruising which can be avoided. You should also avoid heat or massage to the injection sites for up to a week. This is to prevent the spread of botox or fillers to an unintended site before absorbed by the skin or muscle.
If you are taking vitamins such as gingko, vitamin E or aspirin, please inform the doctor. These medications thin the blood and may increase bruising risks.
When do I go for the next review?
We routinely review botox patients at 3 months and filler patients at 6 months. You may indicate change according to your preference and convenience. Discuss with our doctor to see what suits you and we can customise your treatment plan accordingly.