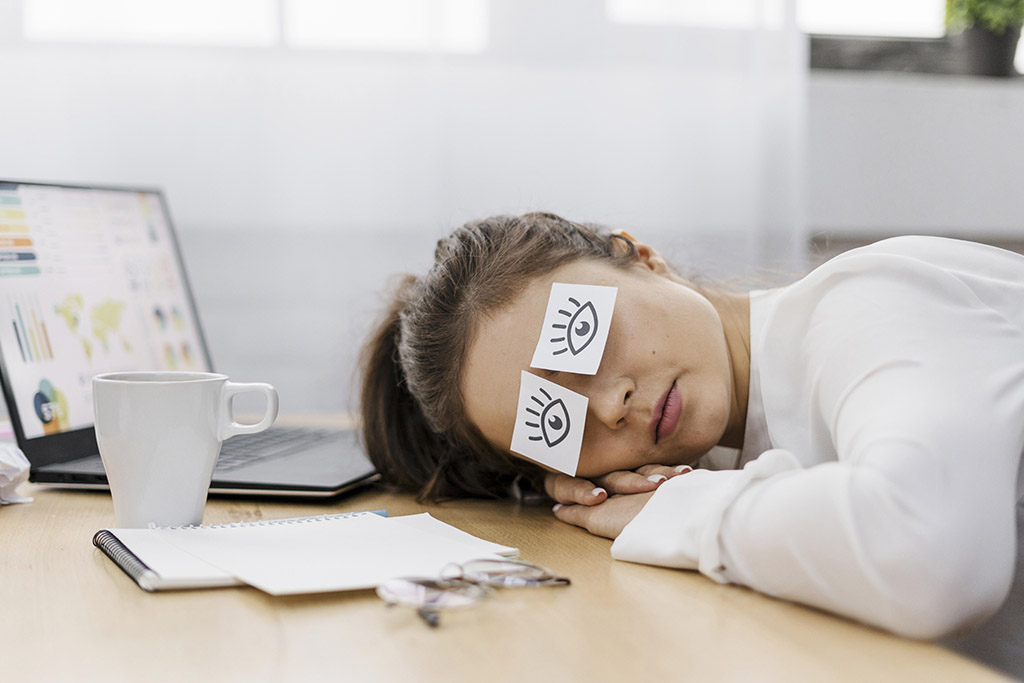 Back to home for study and work.
As Singapore moves back into another phase of heightened alert (Phase 2) in this pandemic, many working adults and students have temporarily returned to "work from home (WFH)" or "home-based learning (HBL)". Some of my patients have told me they prefer the WFH lifestyle as it saves commuting time and brings greater flexibility to their routine. They can relax with a cup of coffee in their pyjamas as they look through the day's email at a more leisurely pace. There are also some folks who express that they would rather in an office environment so that they can look forward to lunch time and interact with their colleagues on a more inter-personal level. Whichever environment you prefer, WFH or HBL will be here to stay for a while. In this blog post, let's discuss how best to make do with this situation, stay healthy and positive in these gloomy times.
1: Plan your daily routine when you work from home
It is easy to fall prey to having no fixed routine as you struggle to multi-task between work, housework and helping your kids with HBL. Drawing out a timetable helps you to allocate your time more efficiently. Include power naps or coffee breaks if you need to recharge throughout the day. Routines are useful to reduce anxiety and help us take better control of our day. Stick your schedule on a fridge or somewhere prominent so you can refer to it.
2: Drink water to stay hydrated
Our body needs water. Good skin health begins with staying hydrated throughout the day. A lot of times, we may be so caught up with the tasks on hand, we forget to drink. We need at least 8 glasses of water per day, and it can vary depending on our activity level. Keep a glass of plain water within visibility on your desk. Try to limit sweetened or caffeine beverages as they are higher in calories and make our kidneys work harder.
3: Choose healthy snacks during break times
We need break times in between work, caring for the kids and finishing the housework or cooking. And eating snacks during breaks is a habit for some. While it may be easy to dive into our fridge for chocolate bars or caramel ice-cream, save these as an occasional treat instead of a daily affair. Healthier snack options include unsalted mixed nuts or a piece of fresh fruit. You can also pop in some berries into a dollop of fresh yoghurt as a cool mid-day treat.
4: Exercise and get moving
With the closure of all indoor gyms and physical activity classes, there are lesser options when it comes to exercise. It is easy for us to stick to our sedentary lifestyle and become less active. Try to break out of this cycle by going for a quick evening jog or brisk walk after dinner. It is good to get a breath of fresh air and helps to expend your calories earned throughout the day. For muscle building or burning fat, you can consider trying out our Electromagnetic Muscle Trainer at $138 for 2 sessions (Price before GST). It is a 30 minute individualized work-out program to tone up our abdomen, upper arms, buttocks and thighs with no pain and no downtime.
5: Apply sunscreen even when you work from home
Many patients tell me they do not apply sunscreen at home. They are under the impression that sun rays are not present indoors. This is a common misconception. It is true that you won't get sunburned indoors because most types of glass block out ultraviolet B rays (UVB). But glass is unable to block out ultraviolet A rays (UVA), which is the cause of ageing, pigmentation and cancer. That is the reason why you should still be applying sunscreen when you are working from home. Try our Perfect Clear 3 Step program if you are having pigmentary problems on your skin. For new patients, it is priced at $180 (price before GST) for 2 sessions.
6: Stay motivated and reward yourself
Motivate yourself with small rewards along the way. Rewards can be a pair of shoes which you have been eyeing for, a special home-cooked meal or short staycation with your loved ones. Find ways to stay connected with friends and family – send thoughtful messages and gifts to show them that you care. Remember that life is not always full of sunny days. No storm can last forever. A positive attitude can turn a storm into a sprinkle.