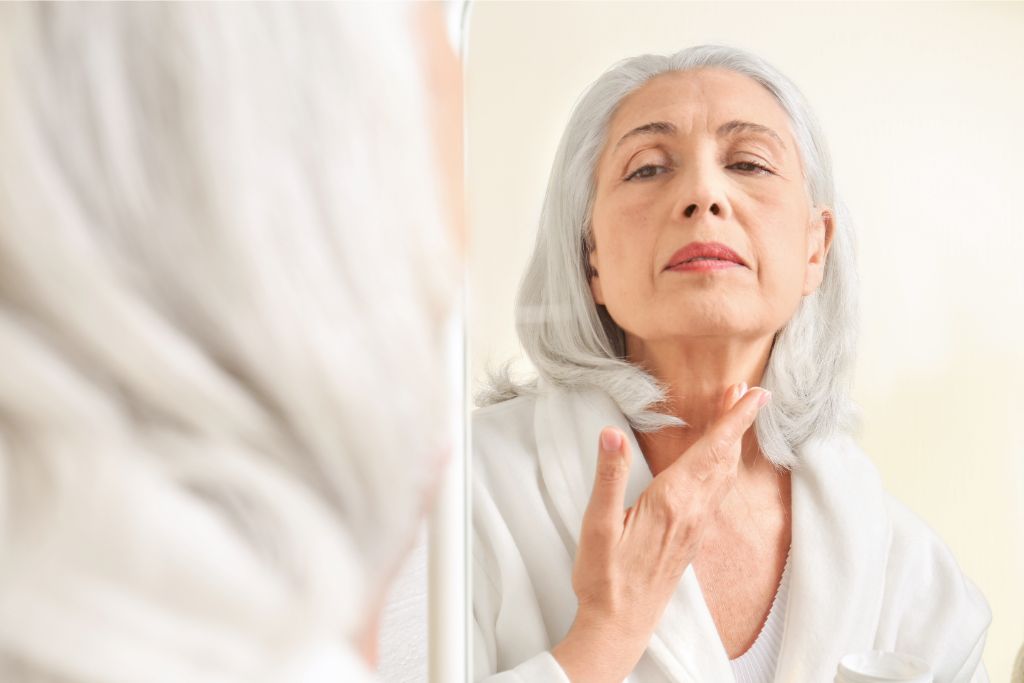 Our neck is often the first part of our body to show the early signs of aging. Many people are not aware that the skin on our neck is much thinner and more delicate than that of our face. A lot of times, we apply expensive face creams only up to our jawline. We forgot about taking good care of our neck which requires equally tender loving care.
What happens to our neck as we grow older?
Our neck comprises of thick bands of platysma muscles and a thin layer of skin. The platysma is a superficial muscle which pulls down the corners of the lips when we clench our teeth. As we grow older, these muscles become more prominent due to repetitive motion. Vertical muscle bands (also unkindly known as Turkey bands) often appears as the first sign of aging.
Another common sign of aging around our neck is the appearance of pigmentation as a result of sun exposure. This can happen when we apply sunscreen on the face but forget the neck. It can take years of cumulative sun damage for the pigmentation to form. So it is important to start applying skincare to include our neck and decolletage from a young age.
Horizontal neck lines can also be accentuated as one grows older. This is also a result of collagen loss as a result of aging, sun exposure and cigarette smoking. Constantly looking down at our mobile phone also worsen this problem. Moisturizers alone is not going to treat these lines. More intensive treatment in the form of fractional lasers and injections to stimulate deep collagen are required if you want to see positive results.
Is it too late to seek treatment aging neck now?
It is often said that better late than never. If you want to slow down the aging process of the neck, you may start with the following;
Apply a broad spectrum sunscreen (with SPF 30 and above) to your neck every day and reapply if you are under the sun
Incorporate a good neck cream to your daily skincare regime and apply it to the base of the neck up to the jawline. This stimulates upward lift and prevent it from sagging down.
Maintain good posture and use the phone at eye level instead of looking down all the time
Cut down on smoking. Cigarettes release more than 4000 chemicals which triggers the breakdown of collagen and cause premature aging.
The use of oral collagen supplements to reduce skin aging is still up for debate. This is because the amount of collagen our body absorbs from these supplements and whether these amino acids make it to the target organ is not clear.
What treatment are effective to treat the aging neck?
You may want to try our signature Neck Repair Program at Arium Clinic. This is a 2 step program in which we combine a laser with radiofrequency treatment to combat the signs of neck aging. Pigment laser helps to target the melanin under the skin and reduce sun age spots and brightens our skin. Radiofrequency firms up the delicate skin around our neck and stimulate collagen production.
To reduce the appearance of wrinkles and lines on our neck, you may also combine the use of dermal fillers, profhilo and rejuran skinboosters which stimulate collagen production and provide hydration to the deeper layers of the skin.
HIFU treatment is also effective as a non-surgical face lift to tighten the skin around the jowls and the neck. It is a comfortable lunch time procedure which can be completed quickly and there is no downtime. Many patients reported positive results after a single treatment.
Watch our video on Neck Repair Program
In this video, we demonstrate our signature Neck Repair Program for the neck.
Call us now to find out how we can help you with treatment for the neck.